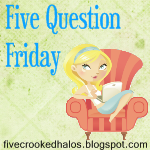 I'm participating in a blog hop over at My Little Life today. Stop by, link up and discover some great bloggers!
1.
What do you listen to while driving?
Why, that's easy! Lots and lots and lots of whining. :)
2.
What is your least favorite thing about Fall?
When it's over and the dark, dreary days of Winter begin. I really can't think of one thing about Fall that I don't like. It's my favorite season.
3.
What does your dream house look like, inside and out?
I love Mediterranean style homes! My dream home would look a lot like this:
4.
Would you ever own a minivan?
I do own a minivan and I totally rock it like nobody's business. Rust, chipped paint, fingerprinted windows and all!
5.
Do you wash new clothes before wearing them?
I never did (well, except the obvious - swimsuits and undergarments) but I may reconsider after reading this: